Technical Questions
How to setup BIOS boot priority to boot LiveCD
To setup a boot priority for CD/DVD or USB disk you need to:
Enter BIOS right after you turned on your PC, typically press: Del, Esc, F2 or F10 keys (use table below for specific manufacturers)
Find Boot Priority section (tab, menu, etc.) and select a device you want to boot from (CD/DVD, Removable Disk or HDD)
Move a device you want to boot from to the top of the bootable devices list (typically using plus/minus signs on a keyboard)
Exit the BIOS, saving changes and re-boot the PC
Here is an example how to make CD-ROM bootable under PhoenixBIOS: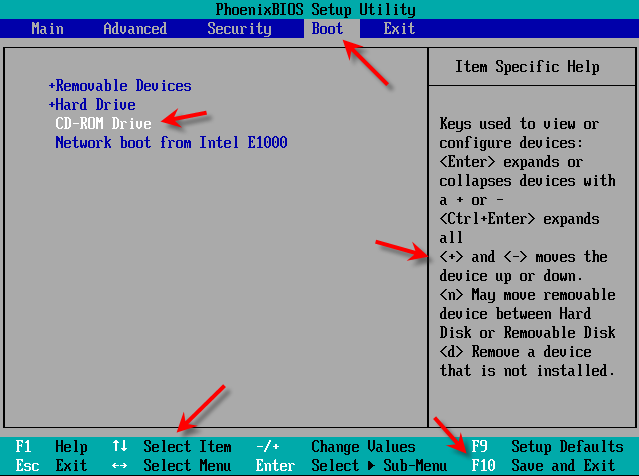 Different PC manufacturers use different BIOS platforms and suggest different ways to enter the BIOS and change a primary bootable media.
Below is a list of PC brands with their corresponding hot-keys.
| Manufacturer | Type | Models | Boot Menu | Boot Once | BIOS Key | Change Priority |
| --- | --- | --- | --- | --- | --- | --- |
| ACER | | | Esc, F12, F9 | | Del, F2 | |
| ACER | netbook | AspireOne, Aspire Timeline | F12 | | F2 | |
| ACER | netbook | Aspire v3, v5, v7 | F12 | The "F12 Boot Menu" must be enabled in BIOS. It is disabled by default. | F2 | |
| APPLE | | After 2006 | Option | | | |
| ASUS | desktop | | F8 | | F9 | |
| ASUS | laptop | | Esc | | F9 | |
| ASUS | laptop | R503C | F8 | | DEL | |
| ASUS | netbook | Eee PC 1025c | Esc | | F2 | Boot Tab, Boot Device Priority, 1st Boot Device, Removable Device, F10 |
| COMPAQ | | Presario | Esc, F9 | | F10 | BIOS "Advanced Tab", Boot Order |
| DELL | desktop | Dimension, Inspiron, Latitude | F12 | Select "USB Flash Drive" | F2 | |
| DELL | desktop | Inspiron One 2020, 2305, 2320, 2330 All-In-One | F12 | Select "USB Flash Drive" | F2 | |
| DELL | laptop | Inspiron | F12 | Select "USB Storage Device" | F2 | Settings->General->Boot Sequence->"USB Storage Device", then up arrow, [Apply]--[Exit] |
| DELL | laptop | Precision | F12 | Select "USB Storage Device" from boot menu | F12 | |
| EMACHINES | | | F12 | | Tab, Del | |
| HP | generic | | Esc, F9 | | Esc, F10, F1 | |
| HP | desktop | Media Center | Esc | | F10 | BIOS "Advanced" tab, Boot Order, Move "USB Device" before "Hard Drive" |
| HP | desktop | Pavilion 23 All In One | Esc | Select boot media from the menu | F10 | BIOS "Advanced" tab, Boot Order, Move "USB Device" before "Hard Drive". For non-UEFI media, disable secure boot and enable legacy support |
| HP | desktop | Pavilion g6 and g7 | Esc | | F10 | BIOS "Advanced" tab, Boot Order, Move "USB Device" before "Hard Drive" |
| HP | desktop | Pavilion HPE PC, h8-1287c | Esc | Then F9 for "Boot Menu" | Esc F10 | Storage tab, Boot Order, Legacy Boot Sources |
| HP | desktop | Pavilion PC, p6 2317c | Esc | Then F9 for "Boot Menu" | Esc F10 | Storage tab, Boot Order, Legacy Boot Sources |
| HP | desktop | Pavilion PC, p7 1297cb | Esc | Then F9 for "Boot Menu" | Esc F10 | Storage tab, Boot Order, Legacy Boot Sources |
| HP | desktop | TouchSmart 520 PC | Esc | Then F9 for "Boot Menu" | Esc F10 | Storage tab, Boot Order, Legacy Boot Sources |
| HP | laptop | 2000 | Esc | Select "Patriot Memory" on the Boot Option Menu | Esc | |
| HP | notebook | Pavilion | Esc | | F10 | BIOS "Advanced" tab, Boot Order, Move "USB Device" before "Hard Drive" |
| HP | notebook | ENVY dv6 and dv7 PC | Esc | Then F9 for "Boot Menu" | Esc | F10 Storage tab, Boot Order, Legacy Boot Sources |
| INTEL | | | F10 | | | |
| LENOVO | desktop | | F12, F8, F10 | | F1, F2 | |
| LENOVO | laptop | | F12 | | F1, F2 | |
| LENOVO | laptop | IdeaPad P500 | F12 or Fn + F11 | | F2 | |
| NEC | | | F5 | | F2 | |
| PACKARD BELL | | | F8 | | F1, Del | |
| SAMSUNG | | | F12, Esc | | | |
| SAMSUNG | netbook | NC10 | Esc | | F2 | Boot Tab, Select "Boot Device Priority", Press Return, Up/Down to Highlight, F6/F5 to change priority |
| SAMSUNG | ultrabook | Series 5 Ultra and Series 7 Chronos | Esc | | F2 | Boot Tab, Select "Boot Device Priority", Press Return, Up/Down to Highlight, F6/F5 to change priority |
| SHARP | | | | | F2 | |
| SONY | | VAIO, PCG, VGN | F11 | | F1, F2, F3 | |
| SONY | | VGN Esc | F10 | | F2 | BIOS "BOOT" section, "External Device Boot" enabled |
| TOSHIBA | | Protege, Satellite, Tecra | F12 | | F1, Esc | |
| TOSHIBA | | Equium F12 | F12 | | F12 | |